I'm continuing my collection of Good Work here.
A while back, I mentioned Melinda Ritz, the set designer for Will & Grace. I believe Beth Kushnick (a board member of the The Set Decorators Society of America, in which Ms. Ritz is also a part of) is another talent to admire.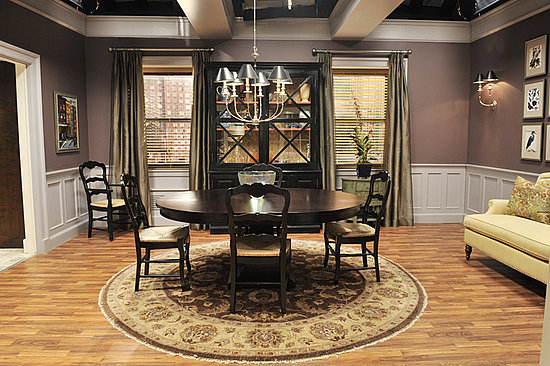 Eggplant-coloured walls… whaaat?! Amazing. Sometimes I think painting a room all white (walls, moldings, floors) is a bit of an easy way out. It's hard to go wrong with that white-gallery setting, and please don't get me wrong—many pull it off really well. But there's a bit more to look at here. It just feels like a step upwards, and the way these rooms are put together is still as bright and welcoming.
She has a similar eclectic style, and is also not afraid to pull weird shit together. The looks are posh and clean, but not too clean. No unhappy hipsters here. She really considers the set design as an extension of the character.
The way I approach decorating a film or television set is by considering the depth of that character's existence, of the experiences they've had in life that lead up to this single moment in time. Look around your own home and you'll see the layers of life that surround you – photos, mementos, family heirlooms mixed with newly acquired objects. This is an essential thing to capture in order for a film set to feel authentic.
—from Christie's Feature Archives: "Arbiter of Style: Presenting…Critically Acclaimed Set Decorator Beth Kushnick"
This collection from The Good Wife is not as theatrical as that of Will & Grace, but man, do these rooms look great. Granted, the characters are vastly different from Will Truman/Grace Adler—it's an upper-class Illinois family of four. My favourite features are the wall of books (lawyers!) and the panel molding all over the apartment.
Also notice the image above that peeks into one of the teenagers' rooms. Thank goodness Alicia Florrick does not have goths in the house.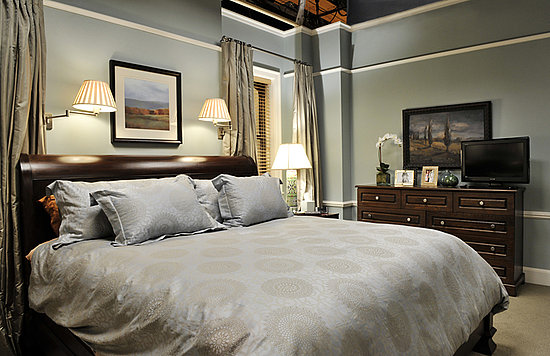 Another thing: the television! It's like the one reality that is hard to find in a lot of decorated rooms. An apartment with public figures and kids cannot realistically exist without it. Especially with the show, they're always watching the dad doing speeches and public apologies. The television needs to be there!
I always try to look for good places for the dumb TV without making it look like I watch it all the time (even though I do). It's a good consideration, a small detail that matters, I think. It's a difficult balance to maintain, without looking like a glazed-over EVERYTHING-FACES-THE-TV sort of person.
Kitchen detail includes shelving in front of the windows, instead of around it. Funnily enough, the light isn't blocked, as the items are clean and only provide more visual interest.
On top of that, The Good Wife is an excellent series. Argh. We need more stories like this, where it's intelligent and good people living lives, and not high school storylines played out by the middle-aged.